Tried and trusted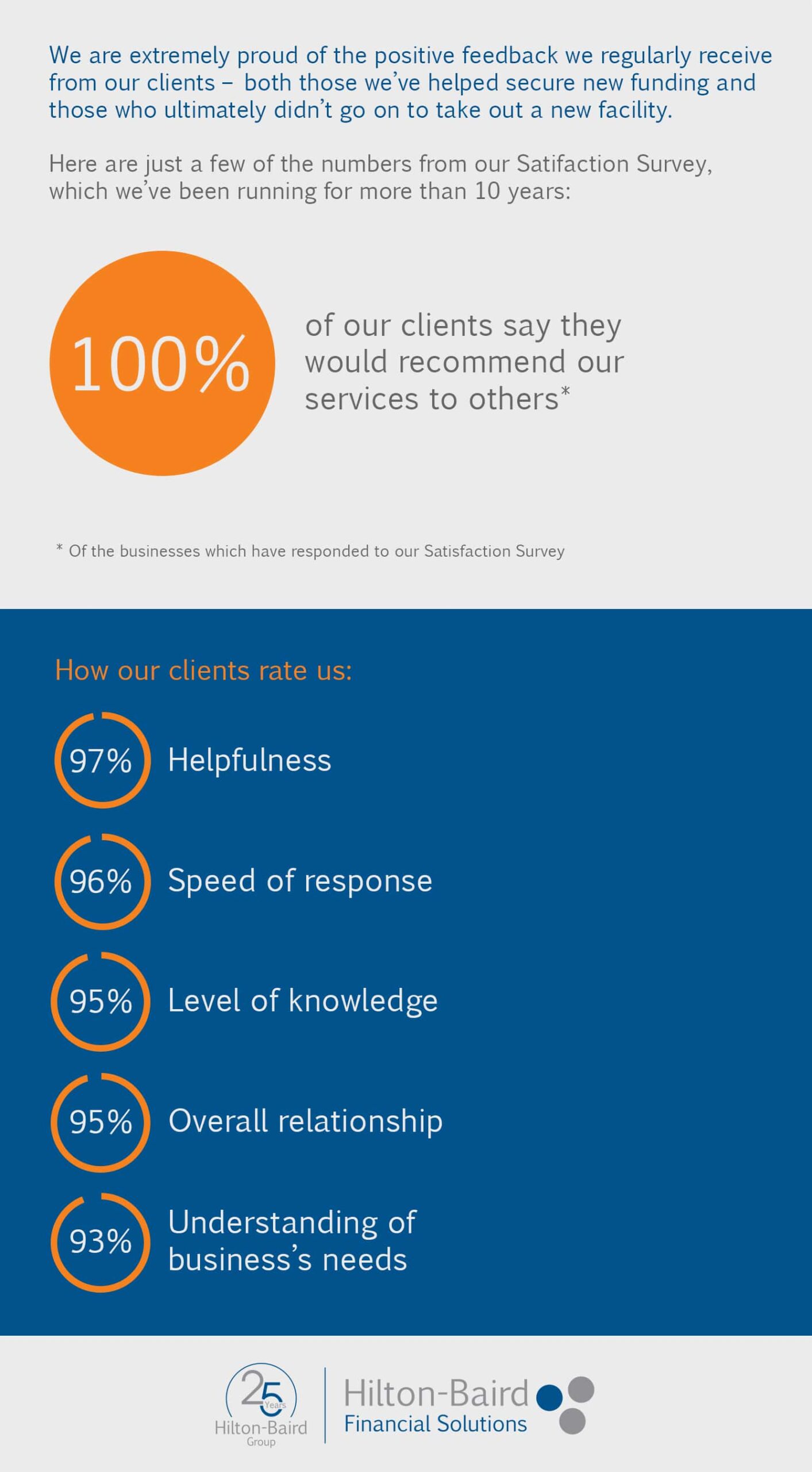 Here is a selection of the comments our clients have made about our team, our levels of service and the value we've added to their business and funding search.
"Hilton-Baird Financial Solutions found the perfect solution for our business. Thank you Neil for your effort and support. You are a star!"
CEO, Wholesaler of personal care products | Read the full success story
"The funder Hilton-Baird Financial Solutions introduced us to has been great for us. Their invoice finance facility suits our needs completely and works exceptionally well, and if there are any problems our account manager is contactable and quickly resolves any issues. I am grateful to Hilton-Baird for their introduction and support throughout and would recommend them to any business which needs a new funding facility."
Mandy Gresty, Bennion Commercial Repairs
"Hilton-Baird's consultative and client-focused approach was invaluable in helping us to quickly and seamlessly find a replacement invoice discounting facility. We chose the new funder as we liked their approach, their structure and particularly because they, like Hilton-Baird, understand our business and its requirements. Both teams are clearly knowledgeable and passionate about supporting businesses like ours. Our new facility will enable us to push forward with our plans, without having to be concerned about the flow of cash."
Managing Director, Traffic management services company | Read the full success story
"I had a great experience working with Hilton-Baird Financial Solutions. They did everything we asked and introduced really competitive facilities that met our requirements. The process was easy and the team supportive. Their expertise was beneficial to us and they have helped towards our bright future."
Steve Laycock, Abbas Marquees | Read the full success story
"Hilton-Baird helped us find an invoice finance provider in a geographical area in which we had no experience and very limited success on our own. We are delighted to have the right funding in place to support our expansion and would recommend Hilton-Baird's services to anyone who is looking for funding for their business."
Michael Franks, Finance Director, A T Promotions Limited t/a Listawood Promotional Products | Read the full success story
"In my experience, the team at Hilton-Baird is very professional – yet warm and friendly, as is necessary with a consultative relationship. Clearly experienced in funding matters, we appreciate that Hilton-Baird actively look to understand the wants and needs of businesses so that they can deliver the best tailored solutions – they certainly met our spec in terms of what we were looking for and we are pleased with the outcome."
Richard Sullivan, Managing Director, Anerley Windows Limited t/a Paxton Restoration | Read the full success story
"We were pleased we had access to Hilton-Baird's expertise. Their team quickly identified a solution which enabled us to proceed with the planned retirement of two of our valued long-term shareholders, against the challenging backdrop of the wider impact of COVID on commercial funding for such financing requirements.
"Having the new facilities in place will assist us in pushing forward and maximising opportunities that arise as our sales increase, ownership and management necessarily passes onto the next generation."
Martin Williams, Financial Director, Rainbridge Timber Limited | Read the full success story
"I was really pleased with the service from Hilton-Baird in helping me find the right funding combination for our needs. Given the pandemic I wasn't sure if the right funding would be available, but Hilton-Baird showed that they know the market inside out and introduced the right options. I'm confident that my facilities will support the business as we continue to establish ourselves in our sector."
Jason Clark, Managing Director, RJ Clark Engineering Limited | Read the full success story
"We have been in contact with Hilton-Baird on several occasions over the last few years. We really value their knowledge when it comes to the commercial finance market. Invoice discounting has been a great tool for us to keep cash flowing, but Hilton-Baird helped us to realise factoring would be better suited to us as a business and provide even more support. The team's service was first class and one I'd recommend to any business, whether they're searching for a new facility or wondering if their current arrangements represent the best fit."
Randy Etheridge, Director, Just Steel Limited | Read the full success story
"We were delighted with the support Hilton-Baird provided. We knew from experience that invoice factoring was the right facility for us, but we needed their expertise to help identify the most appropriate funder. We're now benefiting from a factoring company that fully understands how our business works and is delivering a level of service that we were hoping for. It goes to show that it's important for businesses to review their funding every now and then, and who better to guide them through than Hilton-Baird."
Lee Barnes, Managing Director, Minerva Nursing | Read the full success story
"Our new facility has been really positive. Having access to the level of funding we require has given us the confidence to really push on, and we've become more profitable as a result. You can never underestimate the value of the funder relationship when it comes to your business funding, and I'm pleased to say we've found two great ones in our new funder and the team at Hilton-Baird, who were nothing short of superb."
Simon Cross, Managing Director, Harvey Jacob | Read the full success story
"Hilton-Baird understood our imminent need and managed our expectations as to when the facility could be provided, introducing two funders within a matter of hours from engaging with us. We were impressed by their speed and professionalism."
Director, Private healthcare provider | Read the full success story
"The team at Hilton-Baird were prompt and efficient. We were really impressed with the speed at which we could get a facility in place – they recognised and related to our situation and worked with speed and efficiency to get us up and running on our new facility. We're now able to meet our commitments, without worrying about when our clients will pay."
Steve Marney, Managing Director, Southeast Construction & Recruitment Limited | Read the full success story
"Hilton-Baird were friendly, prompt, understanding and very helpful. Everything you could want from a commercial finance broker."
Owner, Recruitment agency | Read the full success story
"We'd been using an invoice finance facility for some time, but as the company's needs changed, so did our requirements from our funder. Hilton-Baird were extremely helpful and their comprehensive knowledge of the market enabled us to find the right funder for us at this time. I'm very happy with my choice and the developing relationship. I would be happy to use Hilton-Baird's services again, should the need arise."
Managing Director, Dental equipment supplier | Read the full success story
"Hilton-Baird really listened to me. They understood my concerns and needs whilst appreciating previous issues I had with funders in the past. Their knowledge of the market meant we found the perfect funder and solution for my business which has given us the opportunity to grow. Invoice finance has been the ideal facility for us, helping to fund our cash flow and enabling us to grow at the rate we have. We couldn't be happier."
Managing Director, Printing company | Read the full success story
"Within 24 hours of initial contact we were put in touch with two promising service providers. Both were great companies and both had equal chances to sign us on. We picked the first because they had had a first-mover advantage. We are satisfied with our choice. Hilton-Baird were fast and efficient. I was very impressed with their attention to detail, especially in ascertaining the exact requirements of prospects. Above all else we were most impressed by the personal touch of the person who handled our enquiries. I would definitely recommend Hilton-Baird to others."
Managing Director, Security services | Read the full success story
"We had secured a new contract to help the business grow. But we needed to increase our cash flow quickly, so Hilton-Baird introduced me to a funder who was very flexible to my needs. I was delighted with the quick turnaround. It was exactly what I wanted and I was extremely impressed with the service I received from Hilton-Baird that enabled this. I had looked at factoring before and didn't feel it was something I needed, but in this instance it suited my requirements perfectly. I would happily recommend Hilton-Baird – excellent service!"
Managing Director, Courier company | Read the full success story
"I was extremely impressed with the service provided by Hilton-Baird. They were very efficient and knew exactly which facility would help my business achieve what I want it to. I was introduced to the funder that was able to structure the facility around what we were looking for and I was impressed by them from the word 'go'. We're now thoroughly looking forward to working closely with them and are extremely grateful to Hilton-Baird for all that they've done – I'd recommend them to anyone!"
Director, Printing company | Read the full success story
"Hilton-Baird really took the time to listen to our requirements and understood where we came from and where we are driving our business to. I was given all the necessary help and support and my broker was always at hand to answer any questions or queries I had. I felt supported but ultimately I was in the driving seat and made the decision I saw fit for my business. Hilton-Baird only had one interest, my business' best interests. My new funder came across as reliable. Having initially met them, I immediately felt comfortable entering into a relationship with them, which was paramount. Additionally the facility they tailored to our business ticked all of our boxes.
"I'm very pleased that I was in contact with Hilton-Baird when searching for my facility as it is unlikely that I would have found the right funder without them, as it's not a name I was familiar with or many would associate with cash flow finance, but Hilton-Baird listened to my needs, understood my challenges and delivered what I wanted. I would suggest to other businesses looking for cash flow support to talk to these experts and they will find you just what you need."
Managing Director, Recruitment agency | Read the full success story
"We chose our funder for a number of reasons. Firstly we were introduced to the decision maker rather than going through any sales pitch. Additionally, the fact they were both upfront and honest showed they cared about doing right by us. Secondly, they understood how a small, up-and-coming business works and showed a refreshingly flexible and commercial attitude that seems to be missing with some banks or lenders. The invoice discounting facility we have has helped us to move forward and removed the cash flow worry which means we get to move forward as I see fit. Contacting Hilton-Baird was the catalyst my company needed to grow. Their knowledge of the industry was second to none and helped find the perfect funder for me."
Simon Powell, Managing Director, Astringo Commodities Limited | Read the full success story
"The number of large orders was fantastic, however we were in need of a cash flow boost in order be able to pay our suppliers as they nature of our business means we don't receive our payment from our customers until the goods get shipped. Hilton-Baird immediately understood what my business required. They soon introduced me to funders that offered my business a flexible factoring facility that enables me to use it as and when required without incurring minimum fees. This is ideal for my type of business as the large orders can come unexpectedly, whilst they also vary in frequency depending on what season we are in. I now don't have to worry about not being able to pay my suppliers before receiving my own customers' payments."
Phil Page, Managing Director, Logotek Promotional Merchandise Limited | Read the full success story
"When approaching Hilton-Baird Financial Solutions, the key thing I was sure I wanted with my finance facility was the option to continue to manage the credit control of my business. I am very grateful that they clearly listened to what I was looking for and introduced me to a funder who was able to offer me just that. Since Hilton-Baird aided me in the search for a solution to successfully improve my cash flow, everything has been going very well. My business continues to grow and I now have the cash to ensure that growth is suitably funded."
Mike Renville, Director, Renvilles Law Costs Draftsmen & Consultants Limited | Read the full success story
"Primarily I needed to boost the company's cash flow. While the permanent deals were fine, if I had to wait 30 days to receive payment from the temporary contracts it would have severely caused a problem for me – I wouldn't have been able to pay my contractors without it. I was offered a variety of factoring services by Hilton-Baird, and after consultation over the right one for me I chose the one that was the most personal, informative and friendly. Although it wasn't the cheapest offer I think it was the better one for my circumstances.
"I have absolutely no complaints. Business has been very good in a year which has seen plenty of new clients and my company grow constantly. I found that Hilton-Baird not only help people immediately in tough times but they are also a great example of helping foresee longevity and contribute to wider growth and development. They helped point me towards the funder that I'm still using today and is still running very smoothly. I actually surveyed the market recently as is good business practise and my funder remains the best solution for my business a year on, so Hilton-Baird matched me up with the right one for my business' longer term needs."
Neal Warcup, Director, Polar Recruitment Limited | Read the full success story
"Like so many businesses at the moment we hit financial problems when we were unable to factor one of our sponsor's invoices and the sponsor was unable to bring the payment forward. Ordinarily there would be no problem in gaining a factoring facility, but such is the current situation that it wasn't so easy. Fortunately, Hilton-Baird Financial Solutions came up with the solution and enabled us to maintain the essential design pace."
Richard Noble, Project Bloodhound | Read the full success story
"A year ago our whole book was insured but, today, it's nearer 50% as a result of issues with the major house builders. In turn, it has had an impact on funders further down the chain and this was reflected in the initial terms we were offered. Our introduction to Hilton-Baird came at the right time. The service was superb; I doubt we'd have found such a good funder without their help. Their ability to understand us and our needs, and then match this to available funders was the expertise we needed. Invoice discounting is an ideal mechanism to provide us with funding for our day-to-day needs. It's the perfect funding solution for DBD."
Bob Barnard, Financial Director, DBD Distribution Limited | Read the full success story
"We'd been using factoring for four years but our funder decided they were no longer interested in factoring companies like ourselves who offer intangible software products. They were difficult circumstances – over the time we were with them all of our figures actually improved, but if they decide they don't want to continue funding companies like ours that's their decision. We chose our new funder because they were relatively small and very helpful when I spoke to them. They offered us a great opportunity, and now we've secured it we'll look to steadily grow the business over the next 12 months. Hilton-Baird did a great job! They found two potential funders for us so, using this information, we were able to choose the one we believe will help us grow the most."
Anthony Khan, Director, Sports Alliance Limited | Read the full success story
"Hilton-Baird contacted me at an opportune moment as we were looking to increase the level of funding available to assist with our growth as well as reducing the cost of the facility. We were keen to demonstrate our progression and thought that moving to an invoice discounting facility would assist with this. We were introduced to the recommended funder and liked their approach. The Sales Director who visited us explained how the facility would work and we are very impressed with the capabilities of the online system.
"Having run with a factoring facility previously, we were aware of the advantages of this type of funding but the online facility gives us many more benefits with no day to day administrative annoyances. Their system is linked to ours so we don't have to produce the schedules or reporting that used to take so much time. In addition, as our systems are reconciled on a daily basis, we have an increased level of funding available."
Stuart Hubbard, Managing Director, Advanced Pipeline Supplies | Read the full success story