What small business owners REALLY want for Christmas
12/12/2017 / Comments 0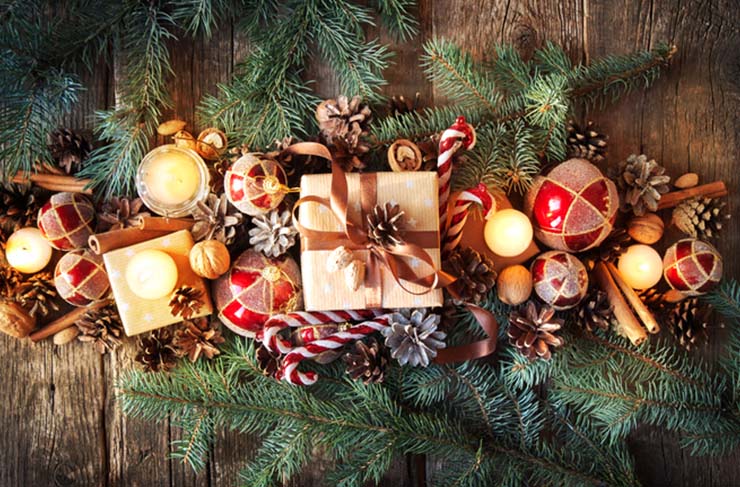 As Christmas approaches many people are excitedly waiting to exchange gifts. But what are you getting the small business owners on your list?
Here are a few ideas of what we think small business owners might actually want this year.
Spoiler alert: There's no socks or smellies in sight. But, if you're offering, we'll accept those too.
1. Business rates reform
The Chancellor probably thought he was giving businesses an early Christmas present when he announced that plans for business rates reform were being brought forward by two years in his Autumn Budget.
From April 2018 business rates will switch to being increased by the Consumer Price Index rather than the Retail Price Index, which is a different way of measuring inflation that tends to be higher.
But industry groups have complained that whilst this is a slight relief there is still more to be done to help small businesses. Many have called for a complete reform of the tax which they believe is "not fit for purpose".
2. Late payment cure
With £14.2billion late payment debt currently owed to SMEs, according to Bacs Payment Schemes, eradicating late payment is something that most small business owners would like to see happen this Christmas.
Successive governments have introduced new legislation to tackle the problem, but to little avail.
Instead, the onus remains on businesses to protect themselves to ensure that they don't become victim to late payment and the associated cash flow problems.
If you're experiencing late payment we could help you get paid faster, either by introducing your business to the most suitable cash flow finance solutions or by recommending a specialist in recovering your unpaid invoices quickly and effectively.
3. A break
One in five small business owners failed to take a single day off in the last year, according to Aldermore. This could be putting their health and wellbeing at risk and shows that a well-needed break is deserved.
The research revealed that over half took five or fewer days off at all in the past 12 months. Meanwhile, one in five had even cancelled a scheduled holiday in order to complete work on time.
But, even those who managed to get a break didn't get to fully switch off. Almost a quarter still answered emails and phone calls whilst on a break, while over a third tried to finish outstanding work.
This suggests that even though small business owners want a break they are unlikely to let themselves have one this Christmas.
4. A clone of themselves
Perhaps many business owners believe that the only way for them to successfully get a break is to make a clone of themselves.
Some small business owners struggle with delegation whilst others have no employees to delegate the tasks to.
According to the Federation of Small Businesses (FSB), in 2017 76% of businesses did not employ anyone aside from the owner(s). Therefore, small business owners are required to outsource or take on all the tasks themselves.
A clone would enable them to successfully complete all the business tasks required without having to pay an outsourced provider. But, human cloning is unlikely to be achieved before Christmas. So, maybe next year?
5. Brexit answers
Ever since the June 2016 EU referendum, business leaders have been calling on the government to give them clarity about how Brexit will look.
Research conducted by the CBI suggests 60% of firms will trigger contingency plans by the end of March 2018 if no transition deal is agreed by then.
A third of firms will have begun to implement contingency plans by the end of January if there is no further certainty before then.
However, it's unlikely that businesses will get the answers they desire for Christmas.
Prime Minister Theresa May is yet to give any new details beyond reiterating plans to seek a transition deal as soon as possible.
And, given that the exit terms are yet to be negotiated, it is impossible to provide clarity on how Brexit will work, business ministers have said.
6. Tax simplification
Small business owners welcomed a report from the Office of Tax Simplification (OTS) into VAT simplification last month.
The report contains 23 recommendations for simplifying the tax including changing the VAT registration threshold, administrative changes and reducing complexity surrounding the types of supply subject to VAT relief.
But at this stage all we have is recommendations. What small business owners really want is fast action to make tax simpler.
7. Support
According to research from Ultimate Finance, 73% of UK SME owners admit to feeling lonely.
Three quarters don't know who to turn to when things get tough and 60% don't believe there is enough support for UK SMEs.
The Government has appointed a Small Business Commissioner to be the champion voice of small businesses but more support is needed for small businesses.
8. Money
With rising business costs and late payment putting pressure on cash flow, it's not surprising that maintaining a healthy cash flow is one of the biggest concerns for small businesses.
An overwhelming 500,000 UK small businesses are in "significant financial distress" according to Begbies Traynor.
So, it's clear that a cash flow boost would be welcome news for many small business owners.
If you're in need of a cash flow boost we could help. As a commercial finance broker, we can introduce the most suitable funding solutions available to your business according to your specific cash flow requirements, whether that's a quick funding boost or a specialist facility which focuses on improving cash flow by freeing up cash tied up in your sales ledger.
Request a call back here to schedule a call from our funding specialists.
9. New clients
If you really want to please a small business owner this Christmas, become a customer.
According to research from Company Formations MadeSimple, attracting new customers in an increasingly competitive environment is the single biggest worry for today's small business owners.
In a survey of over 1,300 small businesses, more than half (54%) said pulling in new business was one of the main factors keeping them up at night.
Therefore, being a loyal customer really could be the best gift you could give a small business owner this Christmas.
---
So, Santa, if you're reading, you know what to get the small business owners on your nice list this Christmas.
What would you like to start the New Year with? Let us know in the comments below.