Outbound Funding Consultant
Reports to: Funding Consultant Team Leader
Salary: £18,000 – £27,000 per annum (D.O.E.)
Bonus: Uncapped, discretionary and performance-based
Based: Southampton
Purpose of role
Hilton-Baird Financial Solutions, a multi-award winning commercial finance broker, is looking for hard working and driven individuals to join our team of Funding Consultants and help UK businesses secure the finance they need to operate and flourish.
As an integral member of our telemarketing team, the Outbound Funding Consultant's primary role is to generate new business opportunities. You will be responsible for contacting businesses on our database to introduce our services as a commercial finance broker, managing your own diary, establishing rapports with key decision makers at these businesses and building a sales pipeline full of relevant and engaged prospects.
We hire for attitude and aptitude above all else. If you possess the drive and determination to succeed, we will teach you the skills you need to prosper within this challenging and rewarding role. Our ethos is one of partnership – both externally and internally. The more value each individual adds to our clients and our business, the more value they receive in return.
Key responsibilities
Generate new business opportunities through cold and warm telephone calling
Introduce our company and services to a variety of businesses and ascertain if there is any current or longer-term funding requirement
Complete a full fact-find, which involves gathering information on the business and discussing the options available to them
Manage and develop your own diary in order to meet personal and business touchstones
Build relationships and gather important information on targeted businesses
Maintain the highest level of quality and professionalism in an effective yet courteous manner
Attend regular team meetings and contribute as appropriate
Maintain a detailed and accurate record of all telephone conversations held
Any duty you may be asked to perform as part of a special project
Person specification
Education and experience
The candidate should be educated to a high standard, ideally to at least A Level education, and have a financial, business or telemarketing background. However, candidates who have achieved GCSE level and have at least two years of relevant work experience will also be considered.
Desired skills
Excellent communication skills and telephone manner
High level of attention to detail
A good level of business acumen
Proven team player with excellent interpersonal skills
Able to work on their own initiative and as part of a team
Driven, hard worker
Punctual and reliable
A willingness to learn
Computer proficiency – Word, Excel, Outlook and SalesLogix or a similar CRM System
What we offer
A vibrant, enjoyable and committed workplace
Rewarding bonus structure
Health Insurance and Life Assurance benefits after 12 months of service
20 days holiday (excluding bank holidays), increasing 1 day a year for each year of service to 25 days
Ongoing training both internally and externally – we invest and take great interest in our employees' personal development
Structured career path within the company
Hybrid working options, once established in the role
Profit-related pay after completing a full financial year (January to December)
The chance to be part of a company that makes a real difference to UK SME and corporate businesses
About Hilton-Baird Financial Solutions
Established in 1997, Hilton-Baird Financial Solutions is an award-winning commercial finance brokerage which introduces businesses of all sizes to the most suitable funding solutions on the market, releasing the working capital that is fundamental to their growth. The company is a family-run business and part of the wider Hilton-Baird Group, which employs more than 50 staff.
How to apply
To apply for this position please email recruitment@hiltonbaird.co.uk attaching your CV and covering letter, stating clearly which role you are interested in.
---
Team testimonials
Neil Galer, Broker | Joined in 2006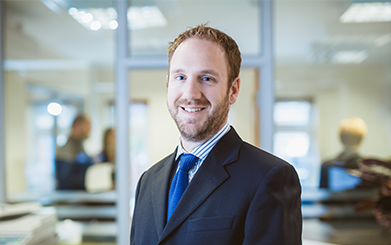 I graduated from Southampton Solent University with a degree in Business Studies and, after 18 months in retail management, joined Hilton-Baird as a Funding Consultant.
What appealed to me most was the opportunity to enter an industry aligned with my degree and working interests. The role developed over time and I had the opportunity to take care of a team of funding consultants during my earlier days. Given my interest in asset finance and commercial mortgages, I later specialised in these products and, in July 2008, was promoted to the role of trainee broker. Today, I assist SMEs with a much wider range of requirements.
This progress has been supported by both ongoing internal training as well as tailored external training, including consultative sales techniques and industry-recognised qualifications. Working within an experienced and supportive business and team is an advantage, assisting not only with achieving satisfaction in my current role, but also in my further studies and career development. Hilton-Baird provides a great working environment with a friendly team atmosphere, support and the drive to achieve results.
Dane Kearney-Hay, Client Support Manager | Joined in 2008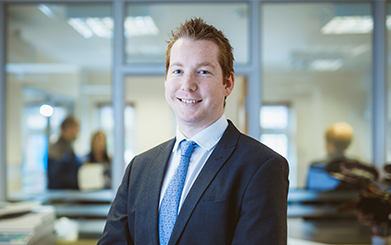 I moved to Southampton initially to train as a Mental Health Nurse, but part way through the course realised this was not the path for me. After leaving University I started a customer service role for a large energy firm. In 2008 the opportunity to join Hilton-Baird Financial Solutions was presented to me via a recruitment agency, and I liked the sound of working for a commercial finance broker, a sector that at the time I had no experience or real knowledge of.
From day one, the company provided ongoing training and support, from developing my communication skills through to product insight and knowledge. Fourteen years on, I am excelling and yet still learning, improving and expanding my understanding of the asset based lending and wider commercial financial world, as well as the many different business sectors we help. It was clear early on that there is no such thing as a silly question to ask and that everyone is here to support each other in order to succeed.
Over the past 14 years, I have enjoyed a progressive career path from Funding Consultant, to Commercial Finance Consultant, to Client Support Manager. As we speak to and assist a wide range of sectors and businesses, each day presents new opportunities and challenges to keep everything fresh and interesting.
Phillip Pratt, Senior Commercial Finance Consultant | Joined in 2007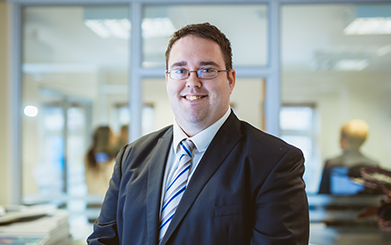 I Joined Hilton-Baird Financial Solutions as a Funding Consultant in 2007, and whilst I had studied Business and Accountancy at college, I did not continue in education beyond this.
I started in Business-to-Consumer sales and had very little Business-to-Business experience prior to joining Hilton-Baird. The role appealed to me due to my interest in business and finance and I wanted to broaden my skills into business-to-business sales.
Whilst admitting at my interview that I planned for this to be short-term employment to gain experience and knowledge of the sector, fast forward 15 years and I am now a key part of the team, and this is down to the working environment and my colleagues.
We are given every opportunity to progress our careers and broaden our expertise, and are well supported by the management team. I'm pleased to have progressed through the ranks and am now a Senior Commercial Finance Consultant.
The role provides me with something new every day. Each conversation I have with prospects provides me with greater knowledge of a wide range of sectors and the challenges many business owners face on a day-to-day basis. Combined with the fact the market is constantly evolving, there is always something new to learn, which is important to me.