The growing value of credit insurance as we enter 2022
22/10/2021
Of all the concerns businesses have at present, the question of when – and if – customers will pay invoices features highly.
With so many businesses impacted by the pandemic, there are real concerns that a surge in bad debt could be around the corner.
Euler Hermes predicts that 37,000 businesses will fail before 2023, with 17,100 expected to fold in 2021 and 20,540 in 2022.
Not only will insolvency unfortunately be unavoidable for some companies, others are choosing to hold onto their cash rather than pay suppliers out of self-preservation.
Cash flow is of course the lifeblood of any business – and getting paid for goods and services provided is fundamental to this.
It can take a lot of new customers to cover a single bad debt, and a series of losses can be catastrophic to any business.
This is where credit insurance comes into its own as a means to protect cash flow from the risk of late payment and bad debt.
So how does credit insurance work, what options are available and how could it protect your business?
How does credit insurance work?
Credit insurance provides a shield of cover for businesses, protecting their cash flow when customers fail to pay invoices on time or at all due to insolvency or protracted default (non-payment within a specified timeframe in the policy).
As well as ensuring your business gets paid for the goods and services provided in the event customers don't pay (or, given the current climate, can't pay), subject to designated and valid credit limits being in place at the time of sale, credit insurance also gives businesses the confidence to continue trading with certain customers.
It can also even allow businesses to extend credit to customers in order to support them whilst safeguarding their own business, and improve access to funding under certain products, such as invoice finance.
According to the latest stats from the Association of British Insurers (ABI), their members are supporting business turnover worth over £366bn through the provision of trade credit insurance.
What options are available?
Credit insurance can either be obtained against a business's whole turnover – providing comprehensive protection – or a selective portion of customers, who might pose a greater risk to your business.
While credit insurance can be provided as a standalone facility, it can also be incorporated into some commercial finance facilities, providing additional cover of up to 100% of the net customer account values (again subject to designated limits) and give access to funding against those same customers.
So, in addition to the bad debt protection element, businesses taking this approach can gain instant access to up to 90% of an invoice's value, with the remainder forwarded once the customer pays.
While standalone credit insurance facilities are subject to Insurance Premium Tax of 12%, bad debt protection provided through an invoice finance facility is not as it's a different structure of protection.
How important is credit protection?
Even before the pandemic, the importance of credit insurance was already apparent, with the value of new claims received by insurers in Q3 2019 at an all-time high, according to ABI.
In recent years we have witnessed the "domino effect", where one company's insolvency increases the insolvency risk for others. This puts day-to-day operations at risk and threatens the jobs of their employees.
And now, given the disruption to economic activity, reduced cash flow and the resulting increased risks of insolvency and default in the market, it is perhaps more important than ever for businesses to prioritise protecting their cash flow.
What are the benefits?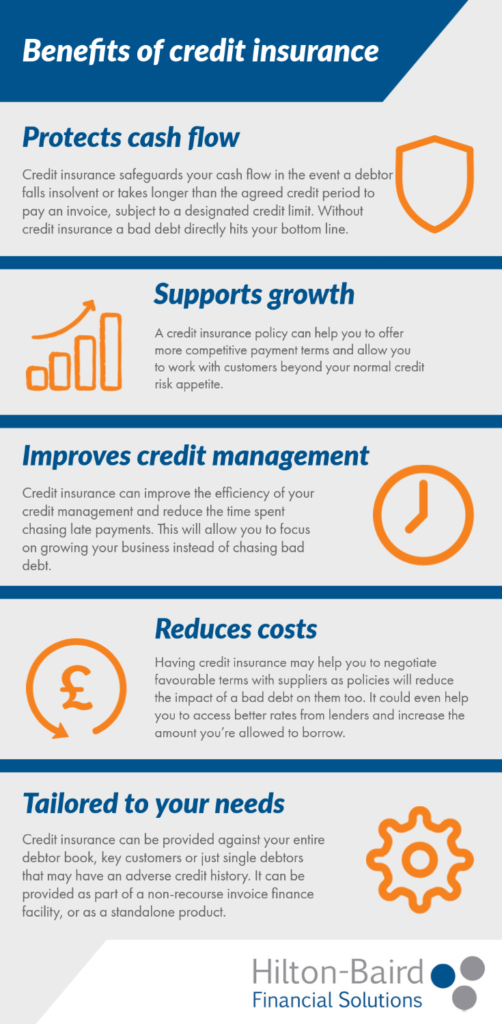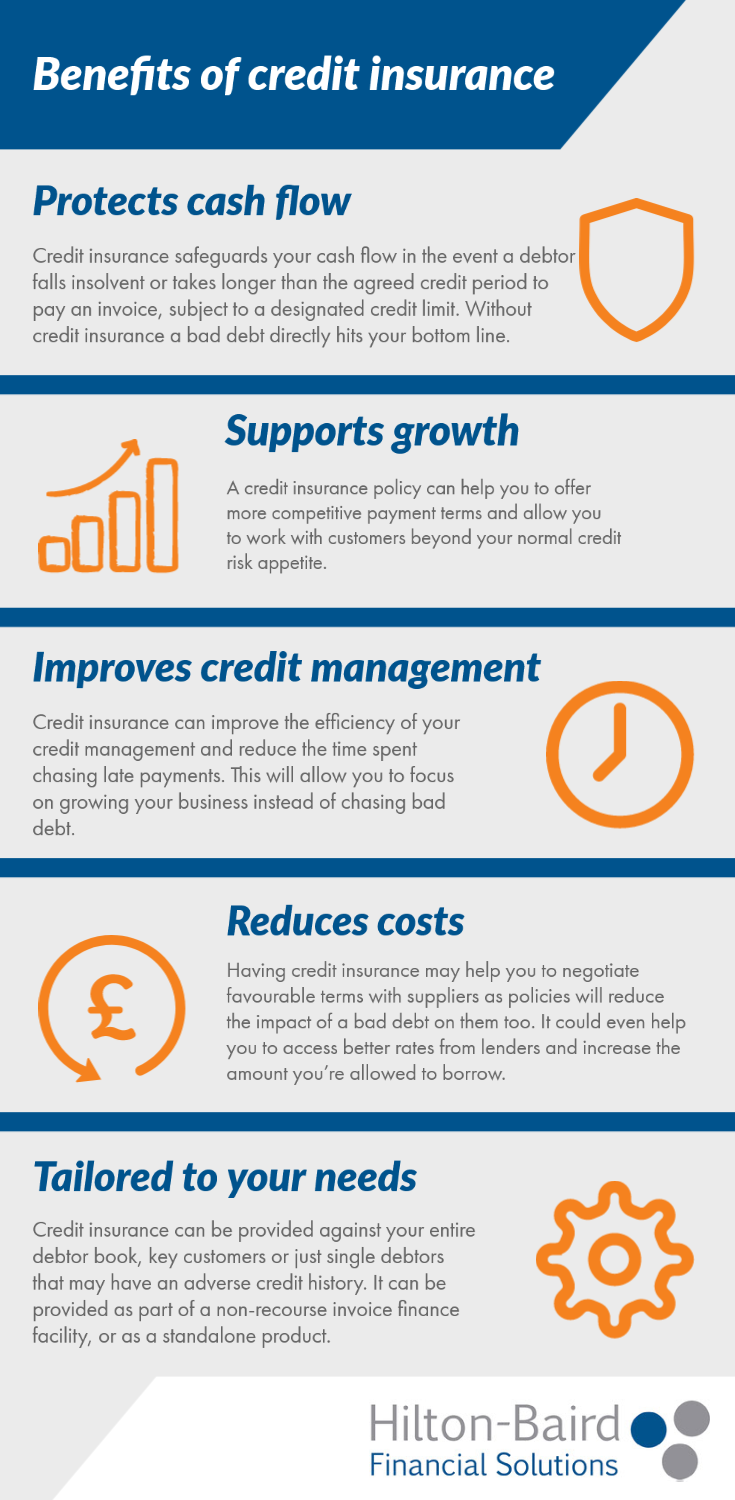 Is your cash flow protected?
If not, we can identify the most suitable facilities and insurers for your needs.
As a commercial finance broker, we've been supporting our clients with their funding and credit insurance needs since 1997.
To discuss your requirements with our team of experts and explore whether credit insurance would be suitable for your business, call us on 0800 9774833 or request a call back at a convenient time.