SMEs wary about the future despite improvement in business health
07/01/2013 / Comments 0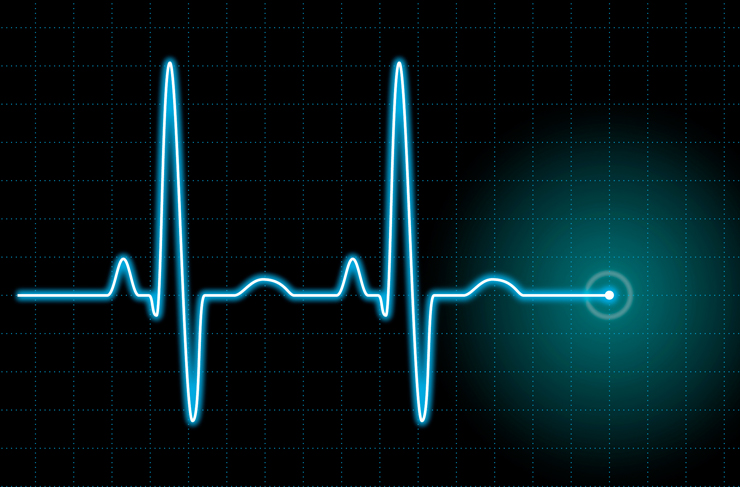 Just one in three expect their business to expand

Financial health of UK businesses improves

Asset based finance clients outperform other finance users
Business confidence fell to its lowest level in 12 months in October 2012 as business owners found trading conditions challenging in the preceding six months.
The latest SME Trends Index, conducted by commercial finance broker Hilton-Baird Financial Solutions in October 2012, found that just 33% of business owners and finance directors expected their company to expand during the following six months, compared with 39% in April 2012.
The respondents stated that generating and winning new businesses would be their primary concern in that period, as reported by 33%, followed by managing cash flow (18%) and the rising cost of fuel and raw materials (16%).
This apprehension comes despite the survey indicating that the financial health of UK businesses reached a two-year high during the six months to October 2012. Using a range of factors such as turnover, profitability and bad debt levels to calculate an overall Business Health Index, this headline figure rose to 0.84 in October 2012. This is up from 0.54 just six months earlier and represents the highest score since the survey began in November 2010.
Significant six-monthly falls in the proportion of businesses reporting an increase in operating costs (61%) and bad debts (30%), which fell by 13% and 9% respectively, largely fuelled this improvement. A 3% rise in the proportion able to increase turnover (40%) over the same period has also assisted.
The survey, which questioned more than 400 business owners and finance directors about their company's performance, confidence and funding habits, also assessed how businesses' finance facilities were supporting their performance.
It found that users of invoice finance and asset finance facilities were significantly stronger financially than businesses relying on other funding methods. These businesses recorded a Business Health Index score of 1.30, which compares to just 0.73 for bank overdraft users. Those relying on personal credit cards (-0.07) and loans from family and friends (-1.24) to fund their day-to-day activities performed particularly poorly over the same period.
Interestingly, the proportion of businesses using invoice finance and asset finance increased on a six-monthly basis to 21% of respondents as the number of businesses using bank overdrafts (37%), personal credit cards (15%) and loans from family and friends (11%) decreased.
Evette Orams, Managing Director of Hilton-Baird Financial Solutions, commented: "It is not surprising that asset based finance users are significantly outperforming those using more generic funding methods. Asset based finance is specifically designed to improve a business's cash flow, enabling it to flourish and grow.
"According to our survey, respondents currently benefiting from such solutions, which include factoring and invoice discounting, were most able to increase turnover, profitability and headcount. Additionally, they were the most optimistic in terms of their outlook for the next six months.
"Improving overall business confidence during the early part of this year will go a long way to fuelling economic recovery. Given that access to finance will be a key contributor to this, it is therefore encouraging to see the proportion of businesses securing targeted cash flow solutions by way of asset based finance is increasing."
-Ends-
For further enquiries, please contact Helen Tramaseur or Jamie Weeden at the Hilton-Baird Group on 023 8070 6637 or email helen.tramaseur@hiltonbaird.co.uk / jamie.weeden@hiltonbaird.co.uk
Note to editors:
Hilton-Baird's latest SME Trends Index was undertaken among 415 businesses across a wide variety of sectors, providing a representative sample of the UK's SMEs. The research was conducted in October 2012, with the results providing a snapshot of current business sentiment and a fascinating opportunity to establish a graphic picture of business trends.
The Business Health Index incorporates the answers from two questions of each respondent and uses the below table to calculate an accurate gauge of their financial health. The best possible score is +10 (i.e. a company has grown and increased its profitability whilst reducing debt and/or VAT/PAYE arrears), whilst the worst possible is -8 (i.e. a company has contracted in size and its profits decreased but debt and/or VAT/PAYE arrears increased):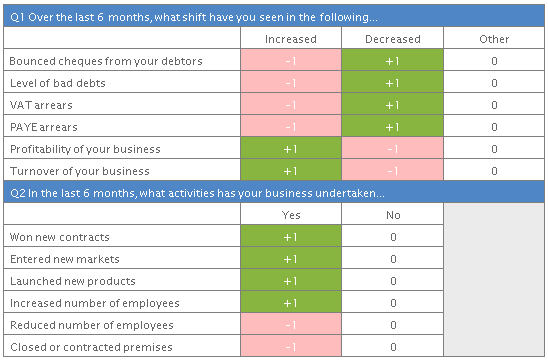 Evette Orams is Managing Director of Hilton-Baird Financial Solutions, which is part of the Hilton-Baird Group of companies. As an independent introducing agent, Hilton-Baird's aim is to clearly identify their clients' funding requirements and match them up with relevant providers. The Group prides itself on maintaining excellent relationships with a broad spectrum of lenders and constantly delivering positive and innovative financial solutions.
Hilton-Baird Financial Solutions was voted Asset Based Finance Broker of the Year 2009 & 2010 at the Business Moneyfacts Awards and UK Asset Based Finance Broker of the Year 2012 at the ACQ Global Awards, demonstrating its reputation and the trust its clients place in its service.
The business's affiliations to the leading financial industrial bodies, the Asset Based Finance Association (ABFA), the Finance and Leasing Association (FLA) and the National Association of Commercial Finance Brokers (NACFB), ensures it maintains the highest level of standards for its clients.
Hilton-Baird Financial Solutions helps businesses of all sizes to fulfil their potential by introducing the most suitable cash flow solutions. Read recent success stories here.
To find out how Hilton-Baird can assist, contact Evette on: 07894 513555.